This Virtual Gallery was created by Will Rourk of the New Media Center at the University of Virginia. It is intended to provide on-line viewers of the exhibition Power of Woe, Power of Life: Images of Women in Prints from the Renaissance to the present with an idea of how the works were originally displayed in the Print Gallery of the Bayly Art Museum.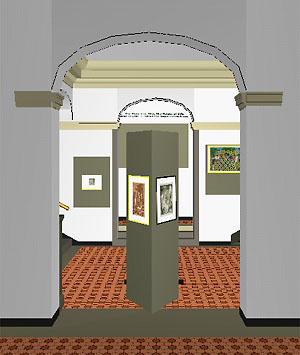 The Virtual Gallery must be viewed using a VRML player such as the Cortona VRML client. This player is available for Irix, Windows95 and WindowsNT. A version for the MacOS is forthcoming.
The controls Viewpoint List, Go Arrow and Straighten Button marked in red on the navigation bar below are the optimal tools for navigating through the site. The Viewpoint List is a pull-down menu from which you can choose viewpoints for each of the images. Please note that the "Go" function is set at a very slow speed.